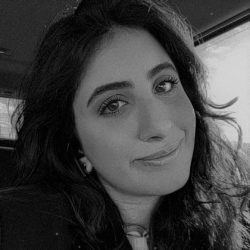 Ms. Masri will be the AMI-trained Montessori Assistant for our Elementary House at Fairport Montessori Academy.
Ms. Masri is currently completing her Undergraduate Degree in Gender and Women's Studies at York University (Major).  She is also minoring in English.  She is fluent in 3 languages: English, French and Arabic.
Ms. Masri has career aspirations of becoming an AMI-trained Elementary Guide and is seeking to gain her AMI training in France.  She comes from a long family lineage of French teachers, with both of her sisters and her mother currently teaching French in France, Lebanon and Canada respectively.  Her motto is "Charge the Mountain".  She intends on instilling this life approach with her future students.  She is passionate about children and passionate about teaching.
Ms. Masri started her on-boarding with Fairport Montessori Academy in January 2021, and will be spending 2 months in each of our AMI Montessori communities, starting in Ms. Tasker's Young Children's House.  She will be transitioning to Mrs. St-Onge's Children's House in March and April, and again to Mrs. Massie's Children's House in May and June.